Review Blog
Aug 20 2018
My old man he played rugby by Peter Millett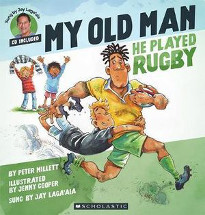 Ill. Jenny Cooper, sung by Jay Laga'Aia. Scholastic, 2018. ISBN 9781775435280
(Ages: 4+) Recommended. Themes: Song, Rugby, Sing a long, Rhyme, Fathers and sons. I cannot get the tune of 'This old man' out of my head after reading and then listening to the CD inside the front cover of this the latest offering from Scholastic of a parody of a well known tune. It is most infectious, and the rhymes are easily predicted, which is a plus for younger readers and listeners.
The boys, lined up at the edge of the football oval, watch their fathers, of all shapes and sizes and varying degrees of skill, tackle the important game of rugby. Each page depicts a different skill: a scrum, throwing, tackling, catching, diving, kicking between the sticks, and all the grunt between of heaving, tackling the other team and then of getting hurt and being stretchered off the field. Each stanza regales the audience with a fun-filled look at the skills required by the game, making light of the older men playing in the team as they spar with each other in a good-humoured way.
For readers new to the game, the words illuminate the practices required by this brand of football and for those already knowing the game, this provides a light-hearted look at what they hold dear.
The wonderful illustrations shine a light on the skills required to participate in this game, and add a light-hearted look at these older men as their pants are pulled down, their pants rip with the strain, they puff and pant, and glow very red as they play.
Whatever they do, of course, is worth cheering by their appreciative sons, turning the usual story on its head, as many books are about parents watching their children. A wonderfully positive look at fathers and sons leading up to Fathers' Day in September.
Fran Knight
BUY IT ON