Review Blog
Aug 01 2018
My Girragundji by Meme McDonald and Boori Monty Pryor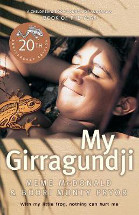 Allen and Unwin, 2018. ISBN 9781760297107
(Age: Middle - Upper primary) Highly recommended. This is a 20th anniversary reprint of the successful 1998 book, "My Girragundji", the winner of the 1999 Children's Book Council of Australia's Book of the Year for Younger Readers.
Girragundji is a little green tree frog who visits the young Aboriginal boy narrating the story. He is afraid of the "Hairyman", scared to leave his bed at night to go to the toilet and he continually senses his threatening presence in the house. The tree frog connects to him spiritually and gives him the strength to face his fears.
It is a story about growing up and living in two worlds and talks to children about their universal fears and painful family issues. This book talks about bullying and first loves.
This novel is based on Boori's personal experiences and is an insight into his younger life. Boori commented that Meme's daughter Grace encouraged his storytelling about his "frog, seven sisters, three brothers and my mother and father".
I love the way this book is presented. Meme's poignant black and white photographs emphasize both fear and happiness. The text is written on white or black pages depending on the frame of mind of the narrator.
"My Girragundji", is a small but powerful novel and its themes are as strong today as they were 20 years ago. "My Girragundji" was adapted into a stage play and is to be made into a feature film.
Meme and Boori collaborated writing together many times but this is a bitter sweet release as Meme died in December 2017.
I highly recommend this book to middle to upper primary school students.
A book trailer is available
here
.
Jane Moore
BUY IT ON