Review Blog
Apr 03 2018
Mummy Fairy and me by Sophie Kinsella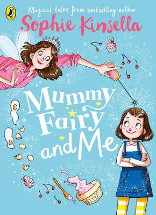 Puffin, 2018. ISBN 9780141377889
(Age: 5-8) "Hello. I'm called Ella Brook... My mummy looks normal, like any other mummy... but she's not. Because she can turn into fairy."
Ella tells four stories about her life with her mother or "Mummy Fairy" as she calls her.
Ella comes from a long line of fairies and knows that she too will be a fairy in the future and practise magic herself.
Young Ella keeps an eye on mummy's magic because her spells can get very confused resulting in bizarre and funny situations. "Fixeridoo!" shows Mummy Fairy using a magical spell to skip the queue at the supermarket checkout ensuing a food frenzy and in "Cupcakeridoo!" magical cupcake-making results in kitchen chaos.
Mummy Fairy is up to date with modern technology and uses her "Computawand" and apps to generate her magic.
Sophie Kinsella (real name Madeleine Wickham) is well known for her chick-lit novels such as the
Shopaholic
series so this is a change of direction for her.
A larger sized font is used and the text is peppered with many black and white illustrations by Marta Kissi. The appealing blue and pink cover shows Ella with Mummy Fairy in full fairy mode. The books ends with games and activities as well as a recipe to make your own fairy cakes.
This book will charm 5-8 year olds.
Jane Moore
BUY IT ON