Review Blog
Feb 23 2018
Parmesan the reluctant racehorse by Jacqui Halpin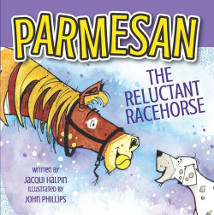 Ill. by John Phillips. Little Pink Dog Books, 2018. ISBN 9780994626929
(Age: 4+) Themes: Racehorses, Being yourself, Dogs, Training. Parmesan is born a horse, but from the first moment much prefers the company of the dogs, to such an extent that he thinks he is a dog. Readers will love the repetition of the things he does as a dog, as he loves to sit and beg, to fetch, to stretch and dig, all like a dog.
But his breeding says he will be a spectacular racehorse, winning trophies for his owner just like his parents. The only trouble is he does not want to train with the other racehorses.
But the owner gives the trainer an ultimatum, make him race or he will be sold. The trainer tries all sorts of things to get Parmesan to run but without success, until finally on race day at Flemington, he has a brilliant idea.
A cute story with fun illustrations, children will love to read of Parmesan and how he comes to be saved, even though he remains true to what he is, a dog. The repetition will draw in the readers and they will laugh out loud at the absurdity of a horse sitting on his haunches to beg for food.
Fran Knight
BUY IT ON