Review Blog
Feb 15 2018
The Harper effect by Taryn Bashford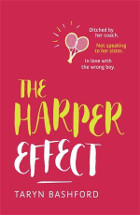 Pan Macmillan 2017. ISBN 9781760552091
(Age: 13+) Highly recommended. Themes: Tennis. Change. Coming of age. Harper Hunter has devoted the last ten years of her life to tennis. It is her past, present, and, with any luck, her future. But that future is threatened when she turns to putty on court and her long-time coach, Kominsky, dumps her. Facing the prospect of life without tennis, Harper must give it her all in a doubles match to stand a chance at reaching the top and breaking through the first-round graveyard. But she gets more than she bargained for in her doubles partner Colt Quinn, a devilishly attractive man with a huge ego and a lot to prove. Meanwhile there are problems at home as Harper and her sister, Aria, deal with the consequences of Aria's breakup with their childhood friend. Aria thinks there must be someone else and Jacob proves this by his continual advances on Harper, who has nursed a crush on their neighbour since she was thirteen. Harper's life is about to become a mess as boys become an almost bigger portion of her life than tennis.
This Australian novel, while mostly dealing with tennis, fitness, and the world-stage, is a coming of age story and a fun little romance. I would highly recommend for girls thirteen and up who find that their world is changing too fast for them to keep up. Well written and containing complex characters that are, at times, all too human, The Harper effect contains messages about staying motivated, working towards goals, embracing passions, and managing the stresses of everyday life.
Kayla Gaskell, 22.
BUY IT ON