Review Blog
Nov 10 2017
Build the Dragon by Dugald Steer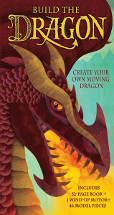 Ill. by Jonathan Woodward and Douglas Carrel. Quarto Books, 2017. ISBN 9781925381702
(Age: 7+) Recommended. Dragons. Models.
Build the dragon
is a fabulous kit that comprises of a book about dragons and a model of a dragon comprising of 46 model pieces and 1 wind-up motor. It is housed in a sturdy box and is must for lovers of dragons and people who like to make models.
The book describes what a dragon is, dragon legends, and different dragons from around the world, their magical powers and their senses. It is very brightly coloured with very appealing illustrations that complement the text. The reader will learn much about the mythical creatures and from where they originate. There is even information about the living dragon, the Komodo dragon. People who enjoy reading tales of dragons will find that this book gives lots of background information to the fantasy dragons that they are familiar with from their stories.
The model is made from sturdy cardboard and has good instructions on how to make it. Children will need to be able to read fairly fluently to follow the guide, but they can always ask an adult to help them make it. The moving parts of the completed dragon will delight model lovers, young and old alike.
This would make an ideal gift for children and would keep them occupied and away from screens for a considerable and enjoyable amount of time.
Pat Pledger
BUY IT ON