Review Blog
Nov 03 2009
Interview with Gabrielle Williams by Fran Knight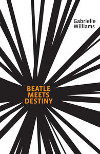 1. I admire the way no pat answers to central problems are given. Many adolescent novels are just so predictable in giving the easy answer. So why did you change the formula?
I think formulas are lazy - unless you're a scientist, in which case they're very clever. I wanted to write a book that was true to itself, not something that had to be shoehorned onto a pre-existing formula. I think that teenagers are pretty savvy and will pick up quite quickly if something is being cynically written to a formula in an attempt to appeal to them. So I got rid of all vampires in my novel.
2. Reading this novel made me feel like I was in Melbourne, my second favourite city, so just how real are the settings used?
Your second favourite city!!! What the hell! Which one's your first?
3. How hard was it to avoid using the sexual relations between young adults of this age as a platform for the story?
I think that sex is only one aspect of any relationship - it's important, but it's not the sole reason to be with someone. I wanted my characters to be with each other because they connected on an emotional level as well as a physical level. To have one without the other is to be out of balance.
4. Have you an ear for language? I found many of the sayings and shorthand sayings and responses so recognizable from kids in the street. The omigods made me laugh out loud. So where do you hear this language?
Here's the secret - I eavesdrop a lot. In cafes, on public transport, wherever I am, whoever I'm with, I'm usually eavesdropping in to the conversation that's happening at the table next to me. Is it something I'm proud of? No. Is it a handy habit to have? If you're an author, yes.
5. The emphasis on words and their meanings, the wit involving words and their meanings and usage were thrilling. How well do you think this emphasis will be received by today's young adults?
I think teenagers and young adults today have a very witty way with words. They twist the language so that it is colourful and memorable, and I love that about them. Admittedly their spelling leaves a little to be desired, but the fun they have with words is skillful, so I think they'll love the word plays in Beatle Meets Destiny.

Questions from Pat Pledger
6. What were your favourite books as a child?
When I was a kid I loved Enid Blyton and Agatha Christie. I think my ideal book would have been one in which The Saucepan Man did it!
7. Have you got any books that you could recommend to your readers?
I recommended the Tales of the City series by Armistead Maupin to my daughter who is 19, and she loved them because of their colourful characters and interwoven plots. Also, The Child's Book of True Crime by Chloe Hooper is great and Hi Fidelity by Nick Hornby. And The Lovely Bones is brilliant.