Review Blog
Sep 28 2017
Sage Cookson's literary launch by Sally Murphy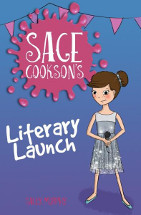 Ill. by Celeste Hulme.
Sage Cookson
series. New Frontier, 2017. ISBN 9781925594010
(Age: 5-7) Recommended. Cooking. Performances. Courage. Family life. Ten year-old Sage Cookson travels with her famous TV chef parents Ginger and Basil all over Australia and the world. In each new destination, the crew film her parents tasting new foods, eating at popular restaurants, and learning new cooking techniques and sharing this knowledge with their large TV audience.
Sage has solved mysteries, outwitted devious adults and spies; however, there are two things she fears, green slimy frogs and public speaking. When their class teacher Mr Duke assigns a three-minute oral presentation on any topic, poor Sage is worried. She could talk about her Singapore adventures, visiting China Town and the zoo or the stinky sabotage at Crystal Bay. Her problem is talking in front of the class; Lucy and her mum and dad offer helpful advice.
Everyone is busy preparing for Mum's first cookbook 'A Spice of Life' special launch party at the Sydney Opera House. Even their friend Tori a radio presenter from Singapore who has come to speak at the party, tries to help Sage.
A last minute emergency occurs and Sage has to step out of her comfort zone. Owing to a car accident in the tunnel, Dad and Tori are stuck in traffic, and Matilda with boxes of Mum's iced cupcakes is stopped as well. Sage offers to speak about her mother and the journey of writing her cookbook. She overcomes her anxieties as she talks about how proud she is of both her parents and their cooking show. What a brave thing to do!
Sally Murphy's Sage Cookson's series are perfect for the newly independent reader, someone who enjoys cooking, mysteries, adventure and family fun. A delicious recipe for Honey and Cinnamon Cupcakes is included as well. With the popularity of television cooking shows, this series is a great fit with young cooks and those who enjoy mystery and adventure.
Rhyllis Bignell
BUY IT ON