Review Blog
Sep 13 2017
Literature to Support the Australian Curriculum Book 2 - Annotated Lists of Fiction and Poetry by Fran Knight and Pat Pledger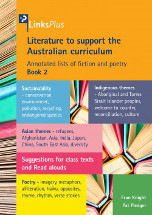 Pledger Consulting
, 2017. ISBN 9781876678531
Highly recommended. This book contains literature to support the Australian Curriculum. It contains annotated lists that cover Asian and Indigenous themes, Sustainability, Poetry, Suggestions for class texts and read alouds for both Primary and Secondary students.
I would highly recommend this useful text for both educators and teacher librarians. It is extremely easy to use with each separate subject being divided up into year levels - entry level - Year 3, Years 4-6 and Years 7-10.
Each annotation contains the publisher and year of publication, making it easy to track down the resource. There is also a brief description/blurb of each text.
Popular picture books and both junior and senior novels are listed. For ease of use, all entries are listed alphabetically according to authors. To assist this, there is also an index of authors.
Each section contains new and recently published texts where you will find your old favourite authors and be introduced to a number of new ones.
It is pleasing to see the inclusion of a diverse range of novels and picture books written by Indigenous authors and illustrators in the Indigenous section. Themes such as diversity, celebration, reconciliation, art and culture are all represented.
I was impressed with the poetry section as this is often an area we are asked for texts by teachers. We find it difficult to find 'good' poetry books to purchase so we will certainly be using this as a starting point to update our collection.
Kathryn Schumacher
BUY IT ON