Review Blog
Aug 14 2017
Literature to support the Australian curriculum - Annotated lists of fiction and poetry Book 2 by Fran Knight and Pat Pledger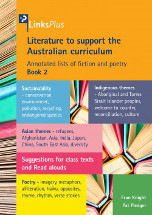 Pledger Consulting
, 2017. ISBN 9781876678531
Teacher reference. Highly recommended for educators and teacher librarians. Subjects: Fiction, Books and reading, Poetry, Anthologies, Annotated bibliography. Children's literature specialists Fran Knight and Pat Pledger continue to provide teachers, educators and librarians with excellent reference resources that support the Australian curriculum. This LinksPlus annotated bibliography highlights popular picture books, junior and senior novels focused on Asian and Indigenous themes, Sustainability, Poetry, class novels and texts to read aloud. These are separated into year levels from Entry level to Year 3, Year 4 to Year 6 and Year 7 to Year 10.
Set out in an easy to read format the listings presented are in alphabetical order of the author. A comprehensive index of authors is included as well. Each section includes new and recently published resources with both familiar and new authors included.
Rosanne Hawke's teenage novels set in Pakistan and Kashmir,
Shanana
and
Peacock Blue
, are listed in Asian themes Year 7-10, and Hazel Edwards junior novel
Hijabi Girl
is included in the Entry level to Year 3 section.
Bronze bird tower
the latest in the Carole Wilkinson's historical fantasy
Dragonkeeper
series still proves to be popular with students in Year 4-7.
Sustainability is a key priority in the Australian curriculum looking at systems, world views and futures. Here there are a broad range of resources listed; there's Jeannie Baker's
Circle
a migratory story of the godwits' journey from Alaska to Australia, and the senior novel set in a world affected by climate change where 90% of women have died
The road to winter
written by Mark Smith.
A diverse range of novels and picture books written and illustrated by Aboriginal authors and illustrators are incorporated in the Indigenous themes section. Diversity, celebration, reconciliation, art and culture are themes presented here, from the bold picture books of Bronwyn Bancroft to Ambelin Kwaymullina's Tribe series for older readers.
The Poetry section includes anthologies, humourous poems, verse novels and traditional styles. The Class novels and texts to read aloud sections include current picture books and novels that explore a wide range of themes, genres and literary styles.
Literature to support the Australian curriculum - Annotated lists of fiction and poetry Book 2
is a valuable resource for educators, curriculum specialists and teacher-librarians.
Rhyllis Bignell
BUY IT ON