Review Blog
Aug 11 2017
My lovely Frankie by Judith Clarke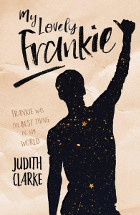 Allen and Unwin, 2017. ISBN 9781760296339
(Age: 12 +) Highly recommended. Catholic church, Priesthood, Love. Tom has retired from the priesthood, a vocation he entered at sixteen, and has now come to live in the town where Frankie, another boy in his seminary, lived. But Frankie disappeared twelve months into their training, and although Tom loved this boy, he has not looked for him until now.
A wholly atmospheric and contemplative book, Clarke stirs our feelings about love and all it means, as Tom comes to see Frankie as the light of his life, the best thing that has ever happened to him. But he is aware of the prefect, Etta, watching them. Tom catches him looking with a face of hate, taking notes in his Book of Little Things, watching Frankie with a fearful intensity.
Frankie believes in a heaven around him, he opens Tom's eyes to the beauty of their surroundings, of the basic goodness in all they see, in humanity, all of which is in dreadful contrast to the harsh and restrictive life they lead at the seminary. Here some boys are not yet ten, and Tom aches hearing their stifled sobs at night. Despite the Great Silence, in which no one can speak between lights out and morning mass, Tom is in awe when Frankie sings them a lullaby.
Their life is regimented, they are to forget those outside who are beneath them, and concentrate on their lives given to God. This fearful view of religion, of people spying, of hunger and cold, of any vestige of humanity stripped from these boys is hard to read about, as love is made subordinate to faith, a regimen similar to that of an army, sect or terrorist group, stripping the new recruits of all their outside links. Tom, confiding in his best friend, Miri, talks through what happened to Frankie, at first believing him to have run away, but with hindsight and experience reaching a different conclusion.
An extraordinary book that made me sad that Tom never said anything to Frankie, cross that people like Etta gain preference within such a hateful system, angry that children so young can be given up to be trained as clerics. Clarke gives us sketches of their early lives and why the decisions were made, and it is with relief that one small boy is eventually removed by his parents. The conclusion Tom comes to concerning Frankie left me thinking about what Tom's next steps might be for a long while.
Fran Knight
BUY IT ON