Review Blog
Aug 11 2017
The Forgotten Sisters by Shannon Hale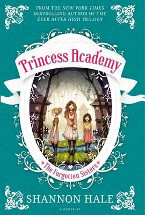 Princess Academy
book 3. Bloomsbury, 2015. ISBN 9781408855416
(Age: 11-15) Highly recommended. Themes: Adventure; Honour; Royalty; Fantasy; Heroism. My one regret in reading this book is that I had not discovered this series earlier. This is a wonderful fantasy tale of love, loss and princesses and courtiers that is exciting and full of warm, intelligent and interesting characters as well as an element of danger and humour. The central character, Miri, demonstrates bravery and intelligence as well as the powerful skill of speaking the language of the stone cutters and stonemasons of her home village - a language that does not require words, but is able to convey great secrets and thoughts and emotions across great distances. Her profound wisdom is needed to save a kingdom from great disaster, and to educate and rescue the forgotten sisters who are living a life of great hardship, but are doing so with amazing fortitude. Her relationship with the young man Peder needs to be put on hold as she has been given this Royal duty - a challenge that will eventually stretch both of them.
Shannon Hale has created wonderful strong female characters that are feisty and intelligent. She has also woven an exciting plot that incorporates the romance of the teen years, with the action and intrigue of war and with the survival skills needed in a frontier locality (with caiman and snake attacks possible!). There is nothing about this book that would not make it immediately loved by young readers aged 11+. Even those who discover it without having read the previous two books in the series will be delighted, and will not be able to put it down.
It would be a good companion text for those who loved
A Single Stone
by Meg MacKinlay or even
The Hunger Games
by Suzanne Collins.
Carolyn Hull
BUY IT ON