Review Blog
Jul 26 2017
Attack of the giant robot zombie mermaid by Matt Cosgrove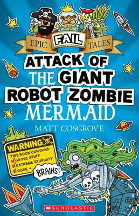 Epic Fail Tales
book 2. Koala Books, 2017. ISBN 9781743811702
(Age: 8+) Humour. On the front cover the Warning states: 'This book contains: Gross stuff Extreme stupidity Gore.' This is not an exaggeration.
Attack of the Giant Robot Zombie Mermaid
is a very twisted, almost unrecognisable version of The little mermaid, but in this instance the one true love of the mermaid are brains and she is particularly interested in the brains of the Pirate Prince. She sets off on an intergalactic journey to find that one true love. The story is filled with hilarious drawings, subversive asides, skulls, witches, and references to fairy tales, speech bubbles and a side splitting narrative this will appeal to children who like Cosgrove's gross humour.
There is even a moral to the story: 'It's good to have brains!' Children are also given the opportunity to add their own bits of costume to create their zombie mermaid and can put text into a speech bubble. Then there is the bonus story at the back of the book:
Seven Ninjas origin story
. This is also hilarious and tells how the seven boys in
Snow man and the seven ninjas
by Matt Cosgrove became ninjas.
This story will provide lots of laugh out loud moments as well as groans for its grossness. It's sure to be a winner with children who like the highly illustrated narrative and this type of humour.
Pat Pledger
BUY IT ON