Review Blog
Oct 14 2009
Interview with Kirsty Murray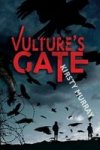 1. Do you see Vulture's Gate as a departure, especially from your historical books?
Vulture's Gate was a natural extension of the ideas I'd been exploring across all my earlier novels. I've always been interested in stories that wrestle with ideas about time, place, historical continuity and historical continuity and the resilience of children.

2. How did you develop the characters in Vulture's Gate? Are there links with those in the Children of the Wind series?
The character of Callum was inspired by a photo of a boy who was performing in a circus. What's always impressed me about children in the circus world is their flexibility - not only in the physical sense but in their ability to adapt to ever-changing circumstance. Bo began more immediately from the inspiration provided by my goddaughter, Roxane Walker. Eventually, both characters grew into their own distinctive selves, drawing influence from many of the children I have known. The principal connection to the characters from Children of the Wind series is Bo and Callum's resourcefulness. I think it's a very distinctive trait of immigrant children and, like Bridie, Paddy, Colm and Maeve, the children in Vulture's Gate have to face the same challenges in terms of finding home in foreign climes.

3. What for you were the main issues that you wanted brought forward in Vulture's Gate
Despite how bleak and dark some of the projections in Vulture's Gate may appear, it's essentially a story that is optimistic about children's ability to adapt and make culture afresh in the wake of environmental and social disasters.

4. The book ends with hope for the future. Is there to be a sequel and if so what direction will it take?
I didn't intend the book to have a sequel but I must admit that Bo and Callum aren't quite so easily put to bed. I do have notes and scenes from their further adventures but I'm working on other projects and trying not to let Bo and Callum hijack me yet again.

5. What childhood books do you feel have influenced your life as a writer?
The list would have to be very, very long. Alan Marshall, Astrid Lindgren, Frances Hodgson Burnett and Mark Twain were authors whose work influenced me. Lucy Fitch Perkins' 'Twins Series' had a major impact on my reading when I was in middle-primary. I loved the way she infused her stories with so much cultural and historical information. Ann Holm's I am David and Ian Serraillier's The Silver Sword were landmark books in my childhood reading alongside Hesba Brinsmead's Pastures of the Blue Crane and Ivan Southall's Ash Road.

6. What books have you recently read which are now amongst your favourites?
I'm both eclectic and voracious in my reading so my 'favourites' list is a shifting canvas. In the past few weeks I've loved David Metzenthen's Jarvis 24 and Katherine Constable's Winter of Grace. I've also enjoyed Kelly Link's extraordinary collection of short stories The Wrong Grave. I'm re-reading Ford Madox Ford's The Good Soldier which is an absolutely perfect novel that's worth revisiting again and again.

7. What have been the main influences on your writing?
My children, step-children, godchildren and the many students that I've met in schools and writing workshops have all exerted a huge influence on my writing. I'm also very influenced by landscape - both urban and rural - and find it very difficult to separate any story from the place in which it is set so Australia is a significant influence on everything I write.