Review Blog
May 15 2017
Star Wars: the visual encyclopedia by Tricia Barr, Adam Bray and Cole Horton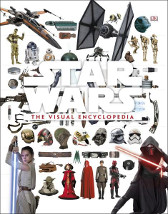 Dorling Kindersley, 2017. ISBN 9781465459626
(Age: 8+) Highly recommended. Encyclopedia, Star Wars, Film history, Technology. The most amazing compendium of all things about
Star Wars
is presented in this large format, heavy tome. What a coverage: from set design to costume, machinery to ammunition, space ships to galaxies, characters to flora and fauna, here is a wonderful contribution to the plethora of books now written about Star Wars, giving a bird's eye view of all the thought, design and making that went into the preparation of the worlds created for that series of films. Watching any of the films makes the audience gape in wonderment at the array of things shown, but reading this book underscores the brilliance of the creators, the range of ideas developed, the level of sophistication of all the people who worked on it. I couldn't put it down.
Divided into five sections: Geography, Nature, History Culture and Science and technology, all aspects of the film are covered, with the last taking up almost half of the book. The first section, Geography, shows all the planets, both inner and outer that make up the galaxy, as well as other celestial bodies traveling in space. Specific detail is given about the mountains, rivers and make up some of the planets, leading into urban geography and architecture. Nature describes and shows some of the creatures which make up this galaxy, leading from the most grotesque of animals to the human and not quite human. History fills us in with the war between the powers in the galaxy, with a timeline of events to make sure we know what happened and when, in relation to other events. This section includes all the protagonists, and there are many of these. Culture shows us the design of the clothing, and leads onto food an art.
But the last section, Science and Technology, is huge. Droids, security and medical droids, communications technology, equipment and field gear, are described in detail, until the munitions pages are reached. Here every reader will revel in the illustrations and descriptions of the rifles, blasters, projectiles and shields, light sabers, and starfighters. I loved the range of things explained and illustrated and will look at the
Star Wars
films with a new appreciation of the depth of design that went into these now classic sci fi films.
Fran Knight
BUY IT ON