Review Blog
Apr 21 2017
Millie loves ants by Jackie French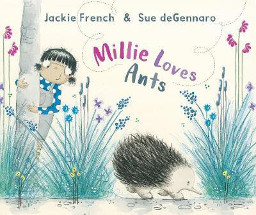 Ill. by Sue deGennaro. Angus and Robertson, 2017. ISBN 9781460751787
(Age: 4-8) Recommended.
Millie Loves Ants
by Jackie French and Sue deGennaro tells the engaging story of young Amelia as she observes her friend Millie the echidna and her quest for ants. Hidden in the garden bed, Emily watches the mother echidna's snout sniffing the ants' trails as they wind their way along the path, beneath the bath, through the kitchen, even in the shed.
Sue deGennaro's lively pastel ink and paint illustrations show the ants performing a range of funny actions. They carry off the soap, toothbrush, paste and bubble bath, crawl up in Emily's pants, form an ant chain to steal kitchen items and carry away the tools from the shed.
Emily watches as Millie explores the ants' homes, nests and colonies. French uses simple rhyming text to explain the roles of different worker ants, the queen ant and soldier ants, then returns to follow the trail of the mother echidna through the native bush. Millie is collecting food for her baby puggle!
There are layers to this text, Emily's light-hearted observations of the ants throughout the house and garden, the echidna's need to care for her young and the important role ants play in our environment.
Millie Loves Ants
supports the Foundation Science Curriculum in recognising the needs of living things - food and shelter. This picture book is a wonderful resource for learning, starting an inquiry-based unit about the basic needs of animals.
Rhyllis Bignell
BUY IT ON