Review Blog
Sep 02 2016
The diary of William Shakespeare, gentleman by Jackie French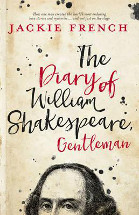 Angus and Robertson, 2016. ISBN 9781460750575
(Age: 11+) Recommended. Shakespeare, Diary, Historical fiction. A diary written by William Shakespeare during the last six months of his life is developed here by French, giving readers a keen understanding of his life and times. He has retired back to Stratford on Avon and here lives a life of memories with his wife, Ann and daughter Judith, meeting regularly with his other daughter, Susanna, and her husband, the local doctor. Will has become a gentleman and French goes to great lengths to explain just why this is so important in his time.
But it is the background to Will's life as an actor and playwright that I found mesmerising. From a child going to the local school where French says he was told only to learn to read, he soon developed an excitement for the players who came to the town. His school friend, Ned was sold to a travelling theatre group and years later Will found out what happened to him. Pedophilia is nothing new.
But his meeting with Judyth as an eighteen year old youth, inspired his love sonnets, and French cleverly insinuates some of them into the text. Their love was doomed from the start, two young people from different backgrounds meeting at a time when Shakespeare senior needed a more lucrative marriage for his son, to get him out of debt. With Anne Hathaway's brother refusing consent to a man eight years younger than his sister, Will took the only path he could, he made her pregnant so that consent had to be given to avid scandal.
From there this young man was soon entranced by players he met in Stratford and it was a not a huge leap to venture to London to act and write for the stage.
I throughly enjoyed French's fictional tale of Shakespeare. The book offers a fascinating insight into the life of our most famous and influential writer, French's fictional diary will be read by her legion of fans and they will be entertained and informed by the huge array of facts offered on every page of this tome. And perhaps seek out non fiction texts to find out more about this man.
Fran Knight
BUY IT ON