Review Blog
Aug 02 2016
One more friend by Bill Condon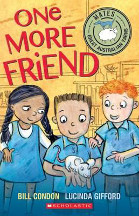 Ill. by Lucinda Gifford.
Mates
series. Omnibus, 2016. ISBN 9781742991184
(Age: 6+) Recommended. Friendship, Chapter book. The
Mates
series (Great Australian Yarns) has produced an array of well illustrated shorter chapter stories for those who have just mastered reading and want something more than a picture book. As with the others in the series, readers will be thrilled at this new offering about making friends in a new school. Jack finds some new acquaintances readily, but when he holds their pet mouse the animal inexplicably dies. He is distraught, even going as far as administering mouse to mouse resuscitation. And having one boy, Mark pick on him, leaves a cold taste in his mouth. But he gets through it all. Mark softens when Jack helps him with his reading at a performance with a visiting writer and his parents take him to the pet shop to buy a new mouse for the girls. All turns out well, and readers will find some words printed in different fonts and styles to encourage learning new words. Each chapter is about eight pages long with bright breezy illustrations, so encouraging the new reader to develop some self confidence when reading independently. I have liked all the books in the
Mates
series and this is no exception.
Fran Knight
BUY IT ON