Review Blog
Aug 02 2016
Lily the Elf: The jumble sale by Anna Branford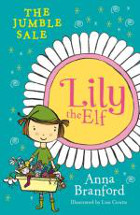 Ill. by Lisa Coutts. Walker Books Australia, 2016. ISBN 9781925381153
(Age: 5+) Recommended. Another in the delightful series about Lily the elf has her getting ready for a Jumble Sale. Everyone in the street is putting out their unwanted things and Lily really hopes that she can find a mermaid tail amongst other people's treasures. When her father starts to bring out things from their very crowded shed Lily is not so certain that she wants them to be sold. How could she let her grandmother's hats go and the fish costume that her father has put out brings back many memories. Worse of all, her baby cot is out there too. What will she do?
Anna Branford always manages to tell a beautiful tale that resonates with its readers. Everyone has wanted to keep hold of old treasures at one time or another and Lily is just the same. Even though her father tells her that the cot would be great for a young couple who are expecting their first child, Lily is most reluctant to let it go. However when she meets the young couple she realises that it would be really good to let them have it and she discovers that doing an unselfish thing brings its own reward.
Cute black and white illustrations are scattered throughout the book, which comprises of five short chapters, printed in large font. This makes it perfect for the newly independent reader who is just starting on chapter books. At the back of the book is the first chapter of The midnight owl, to entice the reader to obtain another in the series.
Pat Pledger
BUY IT ON