Review Blog
Nov 05 2015
Frog Todd by Sofia Goodsoul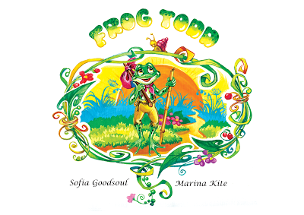 Ill. by Marina Kite. Volya Press, 2015. ISBN 9780994324238
(Age: 3+) Themes: Bullying. Teasing; Names/Name-calling; Character. This rhyming story introduces a young frog whose name, 'Todd' causes him to be the target of taunting by other frogs. It becomes too much and he leaves his pond on a journey of personal discovery. The song that he sings as he travels is rather oddly printed on a card and held by a ribbon, to be used by the reader at prompted points in the story. (This is quirky and a rather unusual choice.) Todd also befriends another frog and helps other small creatures along the way.
Rhyme handled well can be endearing, but in Frog Toad there are times when the rhyme seems uncomfortable or the rhythm of the text does not quite work. However the themes of bullying and name-calling are important ones for young children to grasp..
The illustrations by Marina Kite are colourful and naively detailed and will give a younger child something to focus on while the story is read. Note the font used for the title does not make it easy to discern for a young independent reader.
There are a number of colouring pages at the end of the book, which would perhaps help its use as a gift book.
Carolyn Hull
Editor's note: There is an interview with the author here.

BUY IT ON