Review Blog
Jun 18 2009
Pop Princess by Isabelle Merlin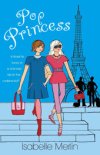 Random House, 2009. ISBN 9781741663365
(Age 12-14) The second book by Isabelle Merlin, set in France,
Pop Princess
, like the first,
Three Wishes
, will appeal to romantically inclined girls of lower secondary school age. Both books have their heroines living a fairy tale life, surrounded by luxury and money. A dream come true, but not without humour and intrigue.
In
Pop Princess
, Lucie goes to Pairs to be a paid companion of teen idol, Arizona Kingdom. Although the girls are allowed out to shop, have coffee and sample the delights of French food, from their flat on the Champs Elysses, they are accompanied by a minder, and know that they are watched incessantly. The girls devise a plan to elude their minder, and meet two street musicians who show them around and help them hide from constant surveillance. But on one outing, Lucie thinks she sees her father, an investigative journalist, talking to a man she is told is a member of the Russian mafia. But her father is supposed to be in Russia, so she is confused.
Arizona's father too, causes problems for the girls with his unvarying attitude to who they can meet and what they are able to do. The two girls make choices about what to do with all that is happening around them. They are most unsure of whom to trust, and survive a ransacked apartment, kidnapping and being held by gun men before all is revealed and they find that the police and Lucie's father's investigations all collide to make an exciting conclusion.
Fran Knight