Review Blog
Oct 08 2015
My Dad is a giraffe by Stephen Michael King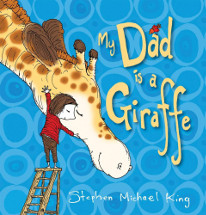 Scholastic, 2015. ISBN 9781743625941
(Age: 4+) Highly recommended, Fathers, Family, Animals, Friends. A gentle story of one boy's dad who is tall like a giraffe, allows the reader to see all the things which a father is. He allows his child to climb on his back to see things, walks with him at his own pace, he can crawl up his legs and slide down his back, sit with him at the movies, rides him across a deep river because his feet can touch the ground. He listens to his fears, helping him to be brave but at the same time protecting him from things that may harm him. His father is proud of him. Each page shows an attribute that children expect of their fathers, and the love and care which flows from a father to his son.
Stephen Michael King's pen and ink illustrations will make the readers laugh out loud as they see the boy in various situations with his dad. King's placement of the text and illustration makes every turn of the page different and exciting, as the giraffe often takes centre stage. The boy and his dad do an array of different things, encouraging the reader to ponder what happens in their house, but knowing all along that the love and care is there. Readers will love looking at the array of background detail appearing on many pages, and hunt for the variety of animals King shows behind the scenes, particularly on the end papers.
This is a wonderful book to use in the classroom where families are under discussion, where parental roles are being looked at, where children talk about what their fathers do, and is an involving look for Father's Day from a different perspective.
Fran Knight
BUY IT ON