Review Blog
Feb 05 2015
And the band played Waltzing Matilda by Eric Bogle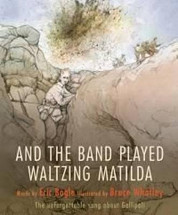 Ill. by Bruce Whatley. Allen & Unwin, 2015. ISBN 9781743517051
(Age: 9+) Highly recommended. War, Gallipoli, Sacrifice, Waltzing Matilda. No one will be able to stop the tears flowing when reading Bogle's iconic song, penned during the days of the anti Vietnam War sentiment in Australia in 1971. A Scottish migrant, Bogle watched the Anzac Day March in Canberra that year and developed the idea when a band passed playing Waltzing Matilda. He wrote his impassioned anti war song with Vietnam in mind, but Gallipoli as the setting.
As relevant today as it ever was, the song mocks the stupidity of politicians and army leaders who send young men into fight, contrasting the life, courage and keenness of those who went on the ships bound for Gallipoli with those blinded, limbless shells of men who returned.
Nobody needs a guide to see that the song and its amazing illustrations points to all men and all wars. Whatley uses images of Gallipoli, from photos and media reports of the time, but I saw parallels with many other images of war. I could not help but see the hooded Muslim men, feet shackled, hands on each other's shoulders, shuffling towards their imprisonment at Guantanamo Bay in the image of the Australian soldiers blinded by gas, hands on each other's shoulders.
The haunted faces of war stare out from the pages, young men brutalised and incapacitated by a war not of their making. Whatley has used pen line drawing and water colour wash to create his superb images, using earthy colours and a sparkled effect to underline the situation these people are in.
The song makes it clear that they may have embarked with cheers and accolades, but returning, people turn away, embarrassed to see the blighted men who come home. The empty faces remind us again of those who have returned from Vietnam and the Middle East, suffering Post Traumatic Shock, only to have to fight again for support and help.
As part of a unit on war, this book will prove to be invaluable, using the song that everyone knows as a starting point. And as this year marks the centenary of the Gallipoli Campaign, this book will be well used. Excellent
teacher notes can be found on the Allen & Unwin website.
Fran Knight BUY IT ON