Review Blog
Oct 08 2014
An interview with a stranger: Terry Whitebeach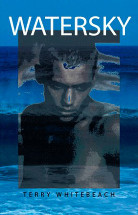 by Fran Knight
Dubbing herself a 'stranger in a strange land', the current May Gibb's Fellowship recipient, Tasmanian author, Terry Whitebeach, has found that her recipe for writing in the quietness and solitude of the apartment in Norwood has included visits to the Art Gallery and Botanic Gardens, as well as the odd lunch. Today we met at Cafe Ivy on Norwood Parade to discuss her body of work and its motivating forces.
Terry's body of work includes two poetry collections, Bird Dream, and All the Shamans Work in Safeway, an indigenous life history, The Versatile Man, radio plays for ABC's Airplay, as well as reviews and essays published in journals. With two young adult novels also behind her (Watersky (1998) and Bantam (2002) as well as two bilingual picture books, When I was a Boy in Sudan and When I was a Girl in Sudan (2014)), Terry is currently working on a novel for younger readers, a niche market which is undernourished.
In this multicultural country, Terry has met and taught many refugees in adult literacy classes. These people surely must be the epitome of a 'stranger in a strange land', having to cope with a different culture, language and ethos, often after many difficult years spent in refugee camps.
Whilst working in adult literacy, she met her Sudanese colleague Sarafino Enadio, and has worked with him to create four books. The first to be published were a pair of bilingual picture books for Sudanese as well as English speaking readers, with the aim of Sudanese and Australian children developing a better understanding of each other. These picture books depict the traditional life of children in Sudan.
Sarafino's ten years in a refugee camp were the catalyst for a young adult novel, Obulejo, Trouble Tomorrow, on which Terry and Sarafino also collaborated, after visiting South Sudan together in 2012. In 2014 they published an account of Sarafino's life, A Little Peace, a South Sudanese Refugee Story.
But Paper Chains is what she is working on while in Adelaide. A novel for younger readers, it is the story of the adventures of six sisters. As with all her novels, it began with an imaginary conversation. This time between a set of sisters. When Terry first 'overheard' the sisters talking to each other she felt compelled to begin to write down their conversations. At first it felt a little like eavesdropping, but Terry nevertheless continued to listen in.
I asked Terry if she had any difficulties writing from a female perspective, as her young adult books all have had male leads. None, she explained; she was brought up in a family of six girls, so has a rich resource from which to draw her ideas.
Although Terry was not forthcoming with many details of this new book, while in Adelaide she will further flesh out the story she feels she must write, of six sisters and their hair-raising adventures, and the way they face and overcome difficulties together and win through. The title of her new book, Paper Chains came to her as an image of a string female figures joined yet individual: its significance will become more apparent as the narrative develops.
As an author concerned with marginalised and silenced or excluded groups and individuals, speculation about the threads of her new novel have tantalised me and I look forward to reading it.