Review Blog
Sep 24 2014
Jam for Nana by Deborah Kelly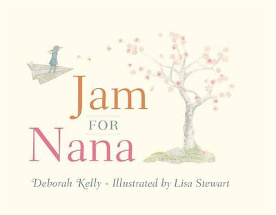 Ill. by Lisa Stewart. Random House Australia Children's, 2014. ISBN: 9780857980014.
Deborah Kelly's first picture book was all ongoing action and riotous colour, and I loved it. This second picture book illustrated by Lisa Stewart is equally delightful but completely different.
A perfect book for grandparents and their grandchildren to share,
Jam for Nana
was inspired by Deborah's memory of making pancakes with her own grandmother.
A little girl and her grandmother make pancakes and Nana remembers the 'real' apricot jam she'd loved as a child. With all the tender love that is the bond between the old and the young, the little girl recreates the love and warmth of that real jam just for her special Nana.
Beautifully reflective and illustrated simply with soothing pastel colours, the sweet sharing between the grandmother and granddaughter is almost tangible.
This is a gorgeous book that would make a wonderful gift for just such a pair in your circle and also a lovely addition to your picture book collection - well suited for the discussion of families with little ones.
Sue Warren