Review Blog
Jul 14 2014
Phyllis Wong and the forgotten secrets of Mr Okyto by Geoffrey McSkimming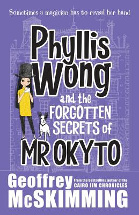 Allen & Unwin, 2012. ISBN 9781742378213.
Meet Phyllis Wong, great-granddaughter of the famous Wallace Wong (that great 1930s conjuror of stage and screen fame) herself a cannily adept magician. Phyllis lives in the beautiful Art Deco apartment block built by her fantastical forebear along with her Dad, Harvey, and a very smart fox terrier called Daisy. Her best friend Clement is an able foil and sometimes inept assistant for her adventures and the cast is rounded out by other inhabitants of the Wallace Wong building, all of them rather unmistakeable and somewhat eccentric.
This first adventure begins with the distressed Mrs Lowerblast, proprietor of Lowerblast's Antiques & Collectables Emporium (ground level Wallace Wong building) being terribly upset to discover the theft of a precious piece of Australiana pottery. As things heat up a valuable diamond necklace also disappears, closely followed by a rare Picasso, without so much as the slightest hint of a human culprit being involved. Could it possibly be... well, ghosts? How can a valuable necklace - securely protected - just vanish into thin air as if by magic? Ahh, as if by magic! - Phyllis Wong brings all her unusual powers of observation and thinking into play and combined with her expert knowledge of sleight-of-hand manages to reveal a very nasty criminal, helping out her friend and neighbour Chief Inspector Inglis.
McSkimming's skill with bringing characters to life on the page, his quirkiness with language and his ability to create a rollicking mystery laced with humour and cleverness never fails to impress. Phyllis Wong lives in a very modern world, with all the gadgetry young readers are used to yet the story still retains the essential flavour of older style adventure-mysteries with their endless appeal, where good always triumphs over evil. The city in which she lives is skilfully anonymous enabling any reader to project themselves into the thick of the action with ease. Phyllis is a strong character, being smart, resourceful and mature, with a fierce loyalty to her friends of all ages. With plenty to engage both boy and girl readers these will be sure-fire hits with children aged around upper primary to lower secondary.
Watch the book trailer and trailer with the author.
Sue Warren.