Review Blog
Jul 10 2014
The Croc and the Platypus by Jackie Hosking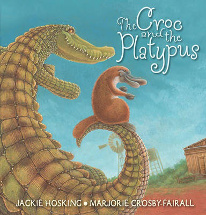 Ill. by Marjorie Crosby-Fairall. Walker Books, 2014. ISBN 9781922077608.
(Age: 5-8) Recommended. Australian animals, Verse, Australian environment. With the same rhythm as
The Owl and the Pussycat
, this rollicking read aloud verse story showcases the Australian outback. Instead of a 'pea green boat' we have a 'rusty Holden ute', and included in the tale are a didgeridoo, the Nullarbor Plain, Uluru, sheep and a shearing shed, fleece, lamingtons and the Southern Cross. The damper in the hamper bounces away in the back of the ute, while they drive over the ochre plains to their destination. Many of these words are in a glossary at the back for those not in the know.
The illustrations reflects the story as the pair drives across Australia, going through desert and softly grassed land to the shearing shed and finally to Uluru. All the way, Croc plays his didgeridoo, lounging in the front seat of the ute as Platypus drives.
The easy rollicking rhyme will entreat readers and listeners alike, and read aloud in a group or by themselves adds another layer of interest. Some adults may look up
The Owl and the Pussycat
, to compare with this adding another level of interest to the younger readers.
As a vehicle to introduce Australian words to a class, this will offer a starting point that will engender interest and engagement.
Fran Knight