Review Blog
May 26 2014
The Dismal Daffodil by Ursula Dubosarsky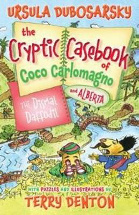 The Cryptic Casebook of Coco Carlomagno
series. Ill. by Terry Denton. Allen & Unwin, 2014. ISBN: 9781743319505.
(Age: 7-9) Themes: Police, Flowers, Mysteries, Guinea-pigs, Gardens, Codes, Buenos Aires, Argentina.
The Dismal Daffodil
is the fourth novel in the
The Cryptic Casebook of Coco Carlomagno (and Alberta)
series by Ursula Dubosarsky. Once again Alberta finds a puzzling letter from her cousin the Chief of Police in Buenos Aires, Coco Carlomagno. She is summoned to help her poor unwell cousin in another Argentinian adventure. This novel is set in the famous Japanese Gardens.
Working together these crime-solving guinea pigs use their deductive powers to solve the mystery of the dismal daffodil. Along the way they are confronted by hundred of origami flowers, mathematical puzzles, a strange haiku quoting guinea pig gardener and Ernesto the troublesome little guinea pig. Coco's colourful character often adds Spanish exclamations to emphasise his feelings; luckily there's a glossary included.
Terry Denton's quirky cartoon illustrations add to the reader's enjoyment. Once again this is a great novel for a confident reader from 7-9 years of age who enjoys puzzle solving.
Rhyllis Bignell