Review Blog
Apr 23 2014
Boy vs Beast: Rock Mutant by Mac Park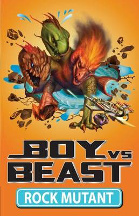 Scholastic, 2014. ISBN 9781921931680.
Boy vs Beast : Rock Mutant is the next book in this series aimed at boys aged 7+ . It is a short novel aimed at independent readers. Like the other books, it introduces the main character Kai and his desire to be a Border Captain - fans of the books will understand this! Kai's job is to protect earth from the beasts in Beastium and to solve any problems in Beastium. In this story, water has been found in the rock land and Kai is off to fix it.
The Boy vs Beast series is a good introduction to first chapter novels. The chapters are short and quick moving and at 60 pages long, a child can comprehend it easily.
Kylie Kempster
Editor's note: Previously published as Terraserpix.