Review Blog
Mar 06 2014
Sir Henry Parkes, the Australian Colossus by Stephen Dando-Collins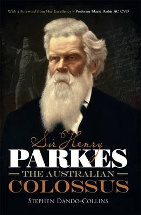 Knopf, 2013. ISBN: 9781742757971.
(Age: Adults - Senior high school students) This year marks the 200th anniversary of Sir Henry Parkes birth in England, May 27, 1815. Henry arrived in Sydney as a 24 year old assisted migrant with his wife, Clarinda. He had worked in a variety of semi-skilled occupations and was self educated but attempted to run a retail store in the heart of the city. Kind and generous with his money he went bankrupt half-a-dozen times. Politics became his real interest and although he was self educated he was able to win support for his policies through his newspaper and speeches. Parkes led innovative, honest and well managed governments and was Premier of NSW five times! His attempts to eradicate rabbits resulted in the development of microbiology in Australia, he introduced the free secular schooling through the Public Education Act in 1866, championed the rights of women and advocated Federation of the States. Parkes had a tumultuous life, he married 3 times and fathered 17 children. Stephen Dando-Collins' 'warts and all' biography is thoroughly researched and interesting to read. The book is accompanied by photos, index, a bibliography and family tree.
Recommended for senior high school History students.
Paul Pledger
BUY IT ON