Review Blog
Jul 10 2013
Killer ute by Rosanne Hawke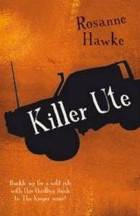 UQP, 2013. ISBN 978 0 7022 4960 0.
(Age: 10+) Recommended. Family. Adventure. Thriller. A sequel to the outstanding pair of novels set on the Cornish coast of South Australia,
The keeper
and
Sailmaker
, this is the third in the trilogy with the previous two being republished.
Joel is in no doubt about who he loves. His Gran who raised him, and Dev, the bikie who turned up to be his stand-in dad, after he advertised in a personal column. His Mum who had him when she was 16, eventually marrying the troubled youth who fathered her child makes only a limited appearance in his life. But now in court to defy the wishes of his natural father, Joel is confused with words being put into his mouth by the lawyer of this odious man. Dev realises that Joel needs to get away, especially after the veiled threat made by Scott, and so the two head off, leaving their problems behind them, or so they think. As they drive south Joel dreams about having Dev permanently, but has misgivings about what others will think about this, and he is unsure about what Dev may think. His thoughts and fears are very real, giving him a resonance which is most appealing. But on reaching the town where they are to spend some time, Dev and his friends are wary, more so when a large black ute careers out of nowhere, forcing Dev and Joel off their bike. When this happens, the three open up to Joel. He is being hidden from his father's friends, and no-one must know where they are. But someone does and Joel reveals that he has had contact with Mei and she is on her way here.
Those who have read the previous two books will love to read of the young boy, Joel, as he finds his way in the world, accompanied by the very appealing character of Dev, and those who pick up this book anew will be immediately hooked by Joel's story. The background is very real, as is the situation Joel finds himself in, unfortunately not uncommon, but resolution comes bringing hope for all the main protagonists.
Fran Knight