Review Blog
Mar 11 2013
Meet Ned Kelly by Janeen Brian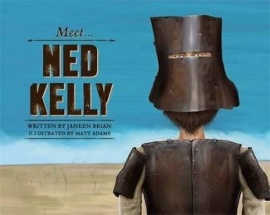 Ill. by Matt Adams. Random House, 2013. ISBN 978 1 74275 718 6.
(Age: 6+) Recommended. Picture book. Australian history. Verse story. The story of Ned Kelly is told in verse in this highly informative and easy to read story. From Ned's beginnings to his life as a selector, to the saving of a boy from drowning, to the start of his life outside the law, the verses sing the story of one poor Irish family downtrodden by their poverty and police harassment until pushed beyond the law.
It is Victoria in the 1850's, gold has been discovered and precious few of the men trying their luck succeed. But it draws people away form their jobs, so much so that the law, for example is forced to recruit lesser men for the job. And law was harsh, Kelly convicted of horse stealing was sentence to three years hard labour, and when he returned home, he was always under suspicion, eventually turning to a life of crime. His life as a bushranger was short. He was captured at the infamous siege at Glenrowan, tried and convicted and then hanged at Melbourne Goal.
Brian gives us all this information and more in her easy to read verse tale, and the illustrations add considerably to the depth shown in the verses. The utter despair the gang must have felt is obvious at the end where the place where they are captured is surrounded by over 40 police, the illustration rendering in detail the aim of the law in capturing the gang once and for all.
Students will find this a pleasurable book to read and ponder, lingering over the illustrations, taking in all they represent: the housing o the time, clothing, poverty of the Kelly family, while assimilating readily the information given in the text. Younger students will find this book a sympathetic introduction to the Kelly story, while older ones may like to use it as a companion to others written on the same topic. In class or from the library, this is a well researched and informative addition to the books about Ned Kelly written for children. Janeen Brian's
website
will take you to Teacher notes written for this book.
Fran Knight