Review Blog
Aug 21 2012
Dyson's Drop by Paul Collins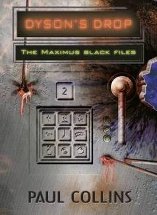 Maximus Black Files. Ford Street, 2012.
(Ages: 13+) Recommended. Science fiction. Wow! What a roller coaster ride! The second is the
Maximus Black
files, is sure to please fans who like science fiction and action thrillers. In this fast paced adventure, Maximus Black, a mole in the spy agency RIM, seems determined to take over all the known worlds. However his nemesis, Anneke Longshadow appears again with her outstanding intelligence and ability to thwart all threats against her life.
Exciting chases come one after another as Black and Anneke try to solve the clues to the shadowy mystery that will give the finder control of the galaxy. Each time Black's total ruthlessness is exposed as he has no qualms whatsoever about dispatching or enslaving whoever stands in his way or who could be useful for his quest. Anneke however, is always careful with her troops, winning their loyalty and support. Meanwhile the enigmatic Envoy continues to influence the action, leaving the reader questioning what is going on with him. With RIM discredited, the reader is also left wondering just how Anneke is going to save the world and why the Envoy is supporting Black.
The world that Collins has created is believable and engaging. Readers who like high tech gadgets will revel in the changes that future technology could bring, not least the transformation of Anneke into a young male officer, who bamboozles all including Black into believing that she is on their side. Exotic stun guns, blasters and tracking devices all add to the excitement of the chase.
Collins also adds a dash of humour to all the thrills and action. His word plays and sly asides make for a fun read as well.
I'm looking forward to the next book in the series Il Kedra to see where this exciting power struggle will end.
Pat Pledger
BUY IT ON