Review Blog
Jul 27 2012
The wheels on the bus ill. by Mandy Foot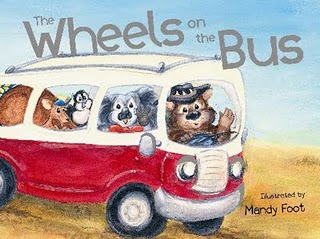 Lothian Children's Books, 2012. ISBN 9780734413116.
(Ages 2-6) Board book. The classic song, The wheels on the bus is given a whole new look by Mandy Foot as a host of Australian animals go on a journey around Australia. What a trip the kangaroos, emus, frill-necked lizard and koala have as they travel to Coober Pedy, Tasmania, Bondi, Philip Island, Daintree, Great Barrier Reef, the Pilbara, Blue Mountains Darwin and the Opera House in a red and white bus.
The book is a visual feast. Starting with a map of Australia showing the places that the bus will go to, it is then up to the reader to follow the word clue sticker on the bus and the animals and plants of the place to work out where it is. There is also a tiny green gecko on each page that the reader will have lots of fun trying to find.
The illustrations of the animals are fabulous with cartoon type faces, brimming with good humour. I especially liked the expressions on the babies as they went 'Wah! Wah! Wah!'
Such a familiar song will be a boon for beginning readers and parents and teachers will enjoy sharing the song as they make an Australian trip. There is a website that gives information about all the places that are visited. This could be a very useful site if doing a unit on journeys or famous places in Australia.
Pat Pledger