Review Blog
Sep 28 2007
Opal dream by Ben Rice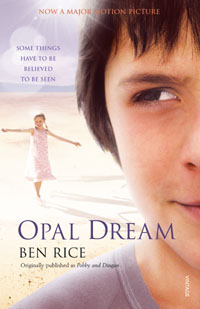 Random House Australia, 2006

Age 12+ The film tie-in of the story originally titled Pobby and Dingan tells the story of Ashmol, an 11 year old boy and his sister Kellyanne who inhabits a fantasy world with her two imaginary friends, Pobby and Dingan. After her father fails to bring her invisible friends back from the opal mine, Kellyanne insists that he goes to search for them. He strays onto another miner's claim, and is accused of 'ratting'. Kellyanne, grieving for her lost friends, becomes seriously ill and Ashmol, in a desperate bid to help her get well, organises the whole town to search for Pobby and Dingan.

Rice captures the atmosphere of the Australian outback in this quirky and moving story. The story is told by Ashmol, who loves his sister but considers her a 'fruit-loop'. All the characters are vivid and real. This story would perhaps respond to being read out loud and could promote much discussion about imagination, dreams and the power of love.

Contained in the same volume is another novella, Specks in the Sky, set in a camel safari centre in America. A mother and her two daughters see specks in the sky which turn out to be a team of crack parachutists who have bailed out during a top- secret mission. Questions are raised about identity and family relations in this unusual story.