Review Blog
Apr 05 2012
The Messy Mother's Day by Lucie Billingsley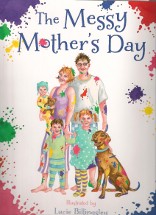 Lothian Children's Books, 2012. ISBN: 987-0734412430. (Recommended ages: 3 year old listeners up to 6 year old readers). Everyone wants to give their mum the best Mother's Day, even Baxter the dog. In this fantastic rhyming book, a family tries to give their mother a great Mother's Day but Baxter the dog does a great deal of helping. What starts as a normal Mother's Day turns out to be a real mess.
The Messy Mother's Day uses rhyming and repetition, in a similar way to many picture books, to encourage young readers. Throughout the book the text is written creatively with some difficult words, used to build the children's vocabulary, written in a large bold font. The text fits in well with the descriptive and detailed pictures.
The Messy Mother's Day has really good illustrations. It is a wonderful, water-colour picture book. The book is colourful and helpful for young children learning to read. The creative pictures match the story line. There is an incorporation of mess throughout the pictures of the book.
Overall, an excellent picture book, good for young children, this book shows how families come together in times of need. Despite all the misery and mess, do you think mum will enjoy her Mother's Day?
Year 6/7 - Dunstan 1, Parkside Primary School, SA.