Review Blog
Apr 04 2012
Dear Dylan by Siobhan Curham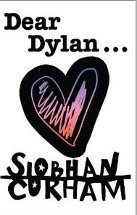 Electric Monkey, 2012. ISBN 9781405260374.
(Age: 12+) Recommended. Georgie Harris absolutely loves Dylan Curtland, aka the famous teenage star from the sitcom Jessop Close, and emails him whenever she can. At first he doesn't reply, but when he finally does, she can't believe it. She begins to pour out her problems to him, writing about her acting dreams and her sad home life with a horrible stepdad. But when he reveals a surprising secret, a new friendship begins.
Dear Dylan
is told, oddly enough, in e-mail format. I had never read a book in e-mail format before and wasn't sure what to expect, but I ended up being very pleasantly surprised.
Georgie Harris is an easy character to relate to. She's a teenage girl in love with a celebrity, and she's nice, caring and has big acting dreams. She also has a bit of a dysfunctional home life, with a stepdad who doesn't care for her and is getting in the way of her dreams.
For a book in e-mail format,
Dear Dylan
is actually written very well. It runs smoothly and goes along nicely for a book that has no dialogue. The twist near the beginning is sure to surprise a lot of people.
The story is sweet, sad and funny in parts, but there's no denying this book has a lot of heart.
For those readers looking for something a little different, look no further than this. It's an interesting, inspiring read with a lot of heart.
I recommend this book.
Rebecca Adams
Editor's note:
Dear Dylan
won the
Young Minds Book Award
when it was first published.
BUY IT ON