Review Blog
Jul 04 2008
The changeling by Sean Williams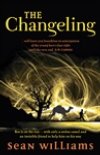 Angus & Robertson, 2008. ISBN 9780732284749
(Age 11+) What would you do if your starving family was prepared to sacrifice you to get rain for their drought-stricken farm? When Kuller, a weather-worker, arrived at the farm to lay a charm to bring back the rain, Ros, influenced by Escher, a voice he hears continually in his head, decides that he must leave before his blood is shed. Fleeing into the desert, he learns about a magical force called the Change, and meets Adi, a girl from a nomadic group. When disaster strikes, and even powerful mages can't help him, Ros is forced to examine everything that has happened to him and he returns home to find reasons for these terrible events.
Williams has created a wonderful imaginative world where weather-workers can manipulate the heavens, Stone mages have powerful secrets and grotesque creatures, like the crabblers, drip venom from their pincers.
I was engrossed with the dry landscape, the stark characters and the dilemmas that Ros faced and look forward to the two novels that follow. The dark cover was not as enticing as the story and it may not encourage readers to pick it up but the story is so taut and well written that it should be promoted as quality fantasy. Recommended.
Pat Pledger