Review Blog
Feb 06 2012
August by Bernard Beckett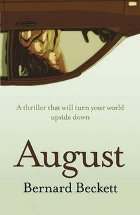 Text, 2011. ISBN: 9 781921 758041.
(Age 15+) Highly recommended. I'm sure everyone will agree that there is nothing better then a good read, whether that book is set in the past, the present or the future, whether it tells a story over hours, days or months is of little consequence as long as the novel makes you think. I believe that
August
is one of these books which makes you stop for a moment to explore a concept or think about the bigger picture, it makes you think about what it is like to live.
Life is all about choice and consequences. Tristan and Grace are strangers, barely met and yet each have dramatically impacted the others life. Tristan, a very fortunate son of a worker had been sent to Saint Augustine's School, it was the highest education available and under normal circumstances only to aristocracy. Grace, once left an orphan on the steps of a convent in the holy city had proven time and time again that she would do anything to survive.
A book anyone would pick up
August
is a quirky philosophic thriller with a hint of added romance bound to keep you on the edge of your seat craving more. I would highly recommend this novel as an addition to any library, keeping aware that some content is inappropriate for people under fifteen years. This novel explores the question of free will with remarkable insight and Bernard Beckett did a wonderful job painting a very rich picture about freedom and life.
Kayla Gaskell,(Student, aged 16)
BUY IT ON