Review Blog
Jun 04 2008
The Name of this Book is Secret by Pseudonymous Bosch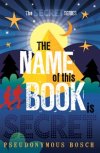 Allen and Unwin, 2008.
When the first few pages warn you about going further and the first chapter is all blacked out with rows of x, then you know you are in for a different read, and this is that and more. Cassandra whose back pack is full of the most amazing things, just in case, is always prepared for whatever happens. Things like a torch, topographic maps, extra shoes and socks all point to adventures ahead. Given a box of junk from a magician's house clearing, her grandfathers allow her to rummage through. She finds a box inscribed with the words, The Symphony of Smells and beneath that, the magician's notebook.
Along with her new friend, Max-Ernest, Cass endeavours to find the secret, and after deciphering some of the clues, decide to attempt to restore the magician and his brother. When Benjamin, another person within the school who has extraordinary powers, is kidnapped, then Cass and Max-Ernest must take action. A wholly entertaining and quirky story,
The Name of the Book is Secret
will enthrall upper primary students, with its story within a story, jokes and puzzles throughout and the intriguing nature of Cass' past and the situation of Max-Ernest's birth and subsequent life.
Fran Knight