Review Blog
May 26 2008
Take it Easy, Danny Allen by Phil Cummings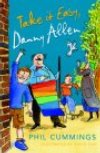 PanMacmillan, 2008 ISBN 9780330423731
(Age 8-12) The sequel to the engaging and lighthearted, Danny Allen was here, is just wonderful, as Danny must roll with his parents' decision to move to the city after the failure of their farm in the Mid North of South Australia. Remembering comments from his friends at Mundowie sees Danny suspicious and unsettled, and their arrival in the city is marred by their friend, Thommo, being taken to hospital after his truck crashes.

Their 'apartment', a third floor cramped set of rooms, where the three children must bunk in together, is in a strange part of town, next to a run down old theatre, and a sparkling new Mercedes franchise. Looking out of the window, Danny sees an eccentric old man replete with a multi coloured apron, waving at him. The warning words of his friend come back to him, and he refuse to return the wave, watching instead as the man scoops something from the road, giving it to the mad old woman he has already seen around the streets.

The setting is brilliant, evocative of the things a kid would see newly arrived in a totally new place, with people and things, all so fresh and rather unsettling. Instead of looking for friends, Danny is suspicious and backwards, but it takes a loose dog in the park for friendships to develop, and from there the ease of transition to the city becomes less difficult. A warm and engaging story, Take it Easy, Danny Allen will find a host of fans in middle to upper primary schools.