Review Blog
Sep 07 2011
Gamers' Challenge - Letting my imagination run wild by George Ivanoff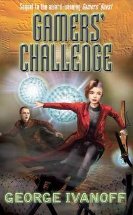 Gamers' Challenge is my first sequel. And boy, was it a lot of fun to write. That's not to say that it wasn't a lot of hard work as well . . . but as a sequel I found it quite liberating. It gave me license to let my imagination run wild.
Writing Gamers' Challenge was quite a different experience from writing Gamers' Quest. There was a lot more 'background' work on the first book - working out the logic behind the game in which the characters are trapped; creating the universe; developing the main characters. And a certain amount of that background had to be included in the novel, so that readers felt that the world and people within it were believable.
With the second book, most of that background work was already in place. Yes, there were some new characters to introduce, but the two main heroes carried on from the previous book. Knowing that readers were already familiar with Tark and Zyra and their world, meant that I could concentrate on making life difficult for them. And it's those challenges that the characters face - the difficulties I throw at them, the obstacles I pace in their way - that make the story really interesting.
I've always said that my main motivation behind Gamers' Quest was the desire to write the book that I would have loved reading as a young teenager. So that's why it's set within a computer game world; that's why it is populated with dragons and killer cyborgs and robot spiders and an invading centurion army; that's why it is fast-paced and action orientated; that's why it contains a Doctor Who reference (yes, I was, and still am, a nerdy Doctor Who fanboy).
With Gamers' Challenge I felt free to indulge my interests even more. So, this book includes within its pages dinosaurs, unicorns, homicidal balls of static, computer game cheat codes, zombies, a World War II style battleground, sudden death pinball, unicorns, a climactic computer game face-off, more dragons and another Doctor Who reference.
That's not to say that the book is all mindless action. There were things of interest to me as a teenager aside from action and adventure. I spent a lot of time wondering what sort of person I would be when I grew up. And I craved the perceived freedom I would have when I finally finished school. I also spent many hours pondering the bizarre notion that I, and everyone else in the world, might just be pawns in some game controlled by a higher power.
The themes of reality and identity that I wove through the story of Gamers' Quest are continued in the sequel. This time I took the question of identity a step further - is it possible to choose the sort of people we want to be, or are we destined to be what we are programmed or taught to be; how much say do we have over who we really are? And to all this I added the concept of freedom. One character even asks 'What do you do with freedom when you get it?'
I enjoyed writing Gamers' Challenge. I really do think it is a book that I would have loved reading in my youth. Now I've just got to hope that the teenagers of today will feel the same way about it as I do!
Gamers' Challenge will be available in bookstores from 1 September.

George will be doing the following bookstore signings:
Dymocks Southland - 12.00noon - 1.30pm, Saturday 24 September 2011
Level 3 (opposite food court), Southland Shopping Centre, Cheltenham, Vic
Collins Books, Northland -1.00pm - 2.00pm, Saturday 1 October 2011
Shop D1/2 (neat Safeway), Northland Shopping Centre, Preston, Vic.
For more information about the Gamers books, check out the official website.