Review Blog
Jul 08 2011
Sean McMullen, guest blogger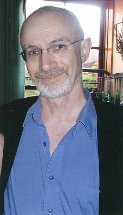 Today we have the pleasure of a guest blog from Sean McMullen, one of a very few Australian SF authors to be short-listed for a Hugo and author of Changing yesterday, the sequel to the popular Before the storm. Claudia Christian (Star of Babylon 5 television series) says about Changing yesterday: 'I LOVED this book! Great characters plus sizzling action equals a 'Terminator on the Titanic' epic story!'
From Sean: Changing Yesterday takes place in 1901, and this setting poses a few problems for both the plotting and characters. Unless you look overseas there were no wars going on, and while the federation of the Australian colonies into one nation was big news at the time, it's not easy to make an adventure out of that. I got around the adventure problem by making up an alternate history. I had Australia's first parliament being bombed. The roof of the Exhibition Buildings falls in, killing most of Australia's political leaders and some British royals. Germany is accused, and this starts a world war that lasts over a century. When the British begin experimenting with weapons that could end the world, the cadets Liore and Fox decide to travel back through time prevent the war from ever starting. In the previous book, Before the Storm, they recruit four Melbourne teenagers, Daniel, Emily, Barry and Muriel. They succeed in preventing the bombing, and they discover that Germany was not involved. British terrorists, the Lionhearts, were responsible. The Lionhearts think that the founding of Australia is a sign of the British Empire breaking up, and they want a war to unify it.
Changing Yesterday is an extended chase between ships, all the way from Melbourne to Europe. Daniel is being sent to an English boarding school, but his ratty little friend Barry ends up on the same ship. Barry says he is on a secret mission, but Daniel soon discovers that Barry has stolen Liore's weapon from the future. He wants to sell it to the king, but the Lionhearts have also learned about the weapon and want to use it to start their war. Because Barry has no manners to speak of but is traveling first class, he causes some seriously embarrassing incidents. Because Daniel is the only teenage boy in first class, he gets a lot of attention from the dozen or so girls who are aboard. This leads to a lot more embarrassing incidents, but it also meant that I had to know a lot about day-to-day life on a long voyage in 1901.
A lot of the research for Changing Yesterday was done in the usual places, the Internet and libraries, but I also used another great source of information: movies. This is not as silly as it sounds. Titanic was an obvious choice, because most of Changing Yesterday is set on passenger liners and the Titanic sailed only eleven years later. Titanic was also heavily researched, this can be seen in the 'making of' additional features that came with the DVD. Miss Potter was also quite valuable, because it showed a lot of the restrictions on young people around this period - particularly where courtship and class distinction is concerned. The Illusionist showed all this from yet another angle.
When you look at a movie you see more than just the story, however. You get a view of the values, manners, morals, fashions and restrictions of the past setting that has been written to be accessible for a modern audience. This is important. If you write in the exact style of a 1901 author, your work is going to look a bit strange and dated to your readers. Well produced movies can give you a lot of clues about how to keep today's readers interested.
The internet was good for filling in some details quickly. For example, some of the action took place in Adelaide, so I needed 1901 photos of the central railway station, the CBD, and the docks. All of this was on the internet, but I was surprised to also find photographs of Colombo and Port Said in 1901. Some details needed library research, however, there was no way around it. Digging out information on shipboard life took a lot of time, but it was worth it. I discovered that the stewards arranged loads of entertainment like concerts, banquets, dances and deck games. Some passengers arranged their own entertainment, however, and quite a lot of flirting and romance went on.
Overall I probably did more research for Changing Yesterday than was needed, but I knew that a lot of teachers were using Before the Storm to get their students interested in Australian Federation. This meant that Changing Yesterday was liable to end up in school libraries too, and that was a good incentive to get everything right.
Changing Yesterday was released by Ford Street Publishing on 1 July 2011.

BUY IT ON