Review Blog
Jul 01 2011
Literature Live! Brings Books Alive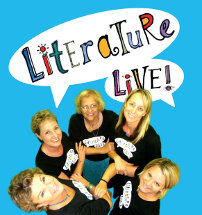 5 kids' book creators; 5 trailblazing mums taking books and writing workshops to thousands of school children across Australia via video conference.

These women are Literature Live!: Aleesah Darlison, Laurine Croasdale, Nina Rycroft, Jeni Mawter and Susanne Gervay (OAM).

From Sydney to the outback, Literature Live! share their love of books, writing and illustration with thousands of kids through the Dept of Education's Connected Classrooms program.

Their workshops are delivered regularly to schools across Australia using the latest video conferencing and interactive whiteboard (IWB) technology. Parents and school communities can see the equipment they fundraised for being put to good use.

As a special treat this August, Literature Live! are presenting their Book Week Shows with all 5 book creators together. The shows will be hosted by Western Plains ABC radio presenter Dugald Saunders and will feature interviews, reviews, competitions and much, much more.

Highlights:

Aleesah Darlison talks about her picture books Puggle's Problem and Warambi. Students learn about Australian animals, endangered species and how to protect the environment.
Susanne Gervay's I am Jack inspires kids to keep their school safe by saying 'NO' to bullying.
Picture book illustrator, Nina Rycroft, draws live with students, creating characters from her book Ballroom Bonanza.
Jeni Mawter shares her side-splitting, real life stories behind her books.
Laurine Croasdale takes an everyday occurrence and turns it into an Aussie CHOMP - watch out kids, this could happen to you!
For more information or to make bookings visit DART Connections at:
www.dartconnections.org.au
or visit
www.literaturelive.net
.
Enquiries to Aleesah Darlison at: aleesah@bigpond.net.au
BUY IT ON