Review Blog
Apr 07 2008
Juicy Writing by Brigid Lowry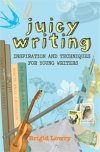 Allen and Unwin, 2008
Subtitled Inspiration and Techniques for Young Writers, Juicy Writing will be a boon for all aspiring writers, young and old. Often asked by students for help in their creative writing, it is great to see such a well produced and informative guide. In the past, books by Hazel Edwards and Eleanor Nilsson have been indispensable, but this new guide by award winning adolescent writer, Brigid Lowry, is set to be used by a wide variety of aspiring writers. Her light touch makes the book most accessible, and she gives advice with humour and enthusiasm.

The five easily read chapters go through the different needs for an aspiring writer, from journals and the need for an inquisitive mind, to where to look for ideas, to 'funking it up', to lots of ideas to get started The list of starters intrigued me, and I can see many teachers getting good mileage from these sections. Easy exercises too, litter the pages and kids could as easily use these at home or with a group of friends, as a teacher in the classroom. The book will have wide appeal to students, teacher and librarians. Lowry discusses narrative as well as poetry, offering suggestions for writers of both genres. Several chapters were a surprise, giving advice that I had never heard of making me immediately think of how I could use it. Such a chapter is the one entitle 'Dialogue'. The Glasgow Rules outlined by Lowry make marvelous sense and would appeal to young writers.

It is well worth a look at the book for your library or classroom, as it offers a huge range of suggestions in an easy to read format.