Review Blog
Mar 16 2008
Antarctic close-up by Hazel Edwards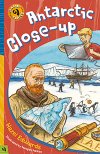 National Museum of Australia Press, 2007 (
Making Tracks
)
(Age 8+) Hazel Edwards visited Antarctica in 2001, and since then has written several enlightening books about that continent. For the series,
Making Tracks
, she has written a short story involving one boy's adventure, peering into the past through a telescope he finds at his father's auctions rooms, once owned by the explorer John Close. He links the telescope to an old video camera, and watches the crew as they live and survive in the Antarctic.
Readers will learn a great deal of information about how these early explorers survived as well as holding their breath when the smallest things happen putting all their lives at risk. Funny stories too are drawn into the story as the boys watch the men on their video.
But in the end, the telescope is sold at the auction, and the boys return to their library with gusto to find books and websites which give them further information about the expedition.
Fran Knight
Note: Discussion questions and other teacher materials can be found on the
Making tracks
site.