Review Blog
Oct 21 2010
Interview with Aleesah Darlison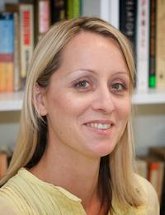 I'm here with Aleesah Darlison, author of the newly released Totally Twins series for girls aged 7 plus.
Welcome, Aleesah, and can you tell us a little bit about your new series?
Thanks, Pat. I'd love to.
Totally Twins
features identical twins Persephone, or Perse for short, and Portia Pinchgut. The girls live with their wacky mum, Skye, who is a yoga instructor and laughter therapist - and yes, she is kind of alternative! The books are written in diary format by Perse. In the first book,
Musical Mayhem
, the girls discover that they have to be in a class musical. Portia is over the moon, but unfortunately Perse can't sing very well at all so she's quite devastated at the prospect of performing in public.
What do you like most about the characters you've created in Totally Twins?
They're all so funny and idiosyncratic. I think readers will really like them. I certainly enjoyed writing the books, I found it so easy to slip into Perse's character and write as her. She's quite shy and a bit over-sensitive, but she's also got this sharp, cracking wit that even makes me laugh with the things she comes out with. And because Perse is recording everything in her TOP SECRET diary, she's completely, utterly honest with herself and her readers.
What is the second book in the series about?
The second book in the series is called
Model Mania
. It's due out in November and in it Portia tries her hand at being a celebrity-ish model. She does quite well, actually, and of course drags a reluctant Perse along for the ride with her. There are a few twists and turns along the way and some hilarious moments for both girls.
Have you got other books planned in the series?
I sure have. I've written a series proposal and synopses for seven books that cover full character and plot line developments throughout. I'd love to see the series progress that far, if not more.
Did you ever keep a diary as a child?
Often. I'd always be scribbling down some deep and personal thought or recording some embarrassing or awkward situation I was trying to work through. I really hope no one ever read those diary entries though! Way too personal.
Which twin is most like you? Perse or Portia?
I think there's a little of both twins in me - and a little of the twins in everyone. I'm a bit bossy like Portia, but also sensitive and sensible like Perse. In
Musical Mayhem
, Perse can't sing a note and that was, or should I say is, how I am. I can't sing to save my life and was always in the percussion group at school. I so very much wanted to be able to sing, but my wish never came true. The trick that gets played on Perse by her cheeky sister and her friends is very similar to a trick that was played on me as a kid. There are pieces of me, and my life, throughout the series and in all my books.
What do you prefer writing - series or stand alone novels?
Each have their merits, but I must admit some of my ideas for characters and stories spread across several adventures so I've written quite a few series and series proposals. I've had a 6 book fantasy series picked up by Walker Books which will be out in 2011 and hopefully I can get some of my other series accepted, too. It kind of consolidates your characters in the Literary Hall of Fame if they can carry more than one book. On the other hand, some stories or ideas just don't lend themselves to serialisation and I'm happy to write them as stand alones.
Serena Geddes is the illustrator of the Totally Twins series. What's her background?
Serena is a brilliant, talented artist and an up-and-coming children's book illustrator. People will certainly be hearing a lot more about her in years to come. Serena used to work for Disney and started out in children's illustration about 18 months ago. Besides the
Totally Twins
series, Serena has been working on a number of picture book projects with New Frontier, including
Samuel's Kisses
(by Karen Collum). I've seen the draft illustrations for that and they're simply delightful.
What's it like working with an illustrator?
It's fantastic. There's nothing better than seeing your story brought to life visually. Sometimes, authors don't have a lot to do with the illustrators on their books, but in the case of
Totally Twins
, Serena and I have collaborated quite closely. And now that the books are coming out, we've also done a number of presentations together - both in person and via videoconference. We've also run some really fun writing and illustration workshops called 'Draw. Dream. Write. Delight.' The girls who came along to them absolutely loved them. I think Serena and I have both had fun working with and supporting each other.
In what other ways has working with Serena benefited you as an author?
I think it's allowed me to see my words, my stories more visually. And when we present together, it's a real bonus to be able to talk about the words and pictures in our books as a team. We call ourselves the 'Dynamic Creative Duo'. Cheesy, I know, but it's also kind of cute. While I read my work out or interact with the crowd for ideas and inspiration, Serena will draw characters or situations we're creating verbally. It's quite a rare opportunity authors and illustrators to present together like that - and the crowd just loves Serena's illustrations. The things she can come up with on the spot are truly amazing! We're quite different in our styles and our personalities, but that's a good thing for us working as a team - we complement each other.
Thanks for your time, Aleesah, and good luck with the rest of your blog tour.
Thanks, Pat.
Aleesah Darlison writes picture books and novels for children. She also reviews books for The Sun Herald. Aleesah has won many awards for her writing including an ASA mentorship with Kate Forsyth in 2009. Her stories have appeared in the black dog books
Short and Scary Anthology
,
The School Magazine
and
Little Ears
.
Her first picture book,
Puggle's Problem
, was released in July. Her junior series for girls aged 7 plus,
Totally Twins: Musical Mayhem
, was released in September. The series follows the adventures of identical twins, Persephone (she's the sensible one) and Portia (she's the messy one) Pinchgut and is written in diary format by Persephone.
Kids will fall in love with this warm and sparkling series about families, friends and fitting in. The series is illustrated by Serena Geddes.
To find out more about Aleesah and the other stops on her mega blog tour, visit her website at:
www.aleesahdarlison.com
.
Previously, Aleesah visited Dave Hibbin's blogspot, The Book Blog, to talk about Writing For Children. Read the interview at:
http://bookblog.com.au/
.
The next and last stop on Aleesah's blog tour will be tomorrow (Friday 22 October) at The BooBook Blogspot hosted by Rebecca Newman. Check it out at:
http://www.boobook.wordpress.com
.
Pat Pledger