Review Blog
Aug 10 2010
I spy mum by Janeen Brian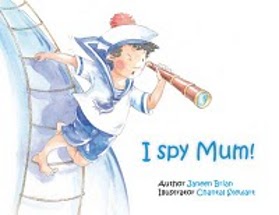 Illustrated by Chantal Stewart. New Frontier, 2010.
(Ages 3+) Recommended for children under five. A little boy out at sea is searching for his mum and on his search he finds lots of mums doing different things. The story is based on I spy and is beautifully rhyming so ideal for reading out loud.
The illustrations are full of movement and mums doing energetic things!
Kathryn Pledger
Editor's note: This is a companion volume to I spy Dad.

BUY IT ON