Review Blog
Aug 04 2010
Gorilla by Anthony Browne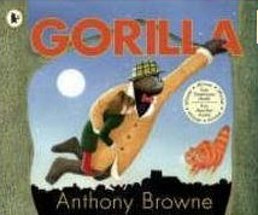 Walker Books, 2008. ISBN 9781406313277.
(Age 2+) Highly recommended. Hannah's father is very busy working and Hannah is lonely. She loves gorillas and wants a real one for her birthday. On the night before her birthday she wakes up to find a parcel from her father, containing a toy gorilla. Disappointed it's not a real gorilla she goes back to sleep, but is woken by full size gorilla who takes her on a birthday adventure.
The story has many levels to it and the reader is left wondering if the adventure is a dream, a real gorilla or perhaps Hannah's father dressed up. The illustrations are beautiful with many details for the sharp-eyed. The story starts out with a sad little girl but ends up with a very happy little girl.
This book won Anthony Browne both the Kate Greenaway Medal and the Kurt Maschler Award.
Kathryn Pledger