Review Blog
Jul 05 2010
Where I belong by Gillian Cross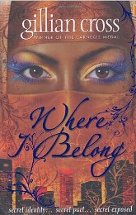 Oxford University Press, 2010.
(Ages 13+) Highly recommended. Gillian Cross weaves an original, complex and satisfying story of three very different young people. Khadija is a Somali girl sent to England to live among Somali strangers. She must pretend they are her family for the sake of an education, a job and money that will help her poverty stricken family. Abdi was born in the Netherlands, lives in England and has never visited his homeland but is Somali through and through. He is doubtful about welcoming Khadija into his family. Freya is a London teenager living under the shadow of her Father, an award winning war photographer and her mother, a celebrated fashion designer.
The three teenagers are thrown together when Freya's mother, Sandy sees Khadija in the street and decides that this tall and stunning girl must be her next model. However, Sandy insists that Khadija must have a new name and wear a full veil so that her identity is never revealed. She also decides that for maximum impact the fashion show should be shot in Somalia and beamed by satellite across the world. Things become seriously complicated when Khadija's brother is kidnapped in Somalia and a 10,000 pound ransom is demanded.
This is a story about our shrinking world, the power of the media and the uncomfortable fit of high fashion in a place usually associated with warlords, piracy and poverty. Cross forces her characters to face the trauma of family betrayal and the nature of homeland and identity. Khadija must conceal her identity from an ever intrusive media frenzy, while desperately trying to rescue her kidnapped brother. Abdi may never have visited Somalia but when he eventually arrives he makes a shocking discovery that will change his life forever. Cross expertly draws together the hints, clues and red herrings to deliver a superb plot twist that is completely unexpected.
With equal appeal for girls and boys this would make an excellent class reader for middle secondary students as there is so much to think about and discuss.
I have admired Gillian Cross since I first read On the Edge, and she is still on form some 25 years later. My only very minor criticism is that the story is told alternately by the three teenagers and occasionally I found the constant shift between characters a little clumsy. However this is also part of the story's strength as the reader becomes immersed in the thoughts and feelings of each of the teenagers. I hope this one makes next year's Carnegie shortlist.
Claire Larson.